AGNC is a mortgage real estate investment trust (mREIT). The business is to borrow short term and invest in long term securities thus earning difference in yields. The profits depend on the steepness of the yield curve. Currently the yield curve (from
http://seekingalpha.com/article/447131-annaly-still-a-buy-despite-another-dividend-cut
) is steep i.e. you can borrow at around 0.50% for 2 years and lend it between 1.5% to 2.0% for 5 to 7 years.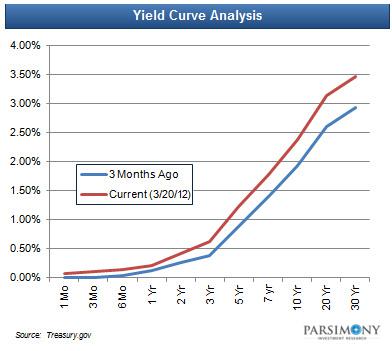 By law mREITs are required to pay more than 90% of their income. So to continue operating these companies need to raise money frequently. AGNC has been issuing equity instead of borrowing.
Recently AGNC cut its dividend from $1.4 / share to $1.25 / share dropping its yield from ~20% to ~16%. I am expecting the yield to go up to 20% and thus price to drop to around 26/27. Based on this belief I recently bought puts on AGNC. I bought June 2012 put at a strike price of 29 for ~$1. Thus my break-even point is at 28. I have up to June 12, 2012 for the price to fall to that level.
The stock has held up fairly well since I bought the Put. I believe the stock has been helped by rising stock market. So, I think I will wait for some more time before closing the position.